BRAZILIAN NAVY NORTHEAST NAVAL FORCE *
16)SUB CHASER JUTAÍ CS 52
---
---
Jutaí ex SC 762 seen escorting one Casablanca bound convoy, March 1943. Photo by J. R. Eyerman from LIFE Magazine archives, shared by Peter DeForest. Seen from USS Jeffrey (DD-621. Source Mike Green. http://www.navsource.org/archives/12/1215076202.jpg
---
SC-497 Class Submarine Chaser
---
Laid down 23 March 1942 by W. A. Robinson, Inc., Ipswich, MA
---
Launched 14 September 1942
---
Commissioned USS SC-762, 7 October 1942
---
Transferred to Brazil 31 December 1942 and renamed Jutaí (CS 52)
---
Decommissioned, 23 Sep 1948
---
Struck from the Naval Register (1951). Fate unknown.
---
Displacement: 148 t
---
Length: 110' 10"
---
Beam: 17' 11"
---
Max. Draft 6' 6"(fl)
---
Speed 15.6 or 21k
---
Complement: 3 officers, 24 enlisted
---
Armament one 40mm, two 20-mm, two or three dcp "K Guns", 14 depth charges with six single release chocks, two sets Mk 20 Mousetrap rails with four 7.2 projectiles
---
Propulsion two General Motors 8-268A or two General Motors 16-184A "pancake" engines, two shafts. Source: DANFS
---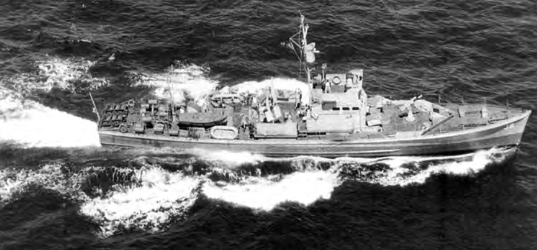 ---
Above a panomramic view of SC Jutai seen at full steam during one convoy escort mission.
Photo. Revista Maritima Brasileira
---
On 21/Jul/44, along with SC Grauna- SC Jutai, when part of screen of convoy JT-18, went on assistance to the survivors of Corvette Camaqua - C 6 which capsized and sank due to rolling sea at 09:30 hs some 12 miles northeast of Recife.
During World War II Jutai patrolled 61,660 miles, escorting 61 convoys in 267 days at sea. She was stricken from Naval Service on 23 September 1948.
---